7/25/2022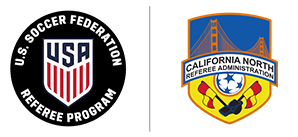 ENTRY LEVEL REFEREE COURSES
The format for the Referee Training has changed once again. US Soccer has created an online training course for all new referees, to be followed by a field clinic. The online course takes between 7-10 hours and the referee candidates may save their progress and continue at another time. This online portion must be completed before the date of the field course, which must be attended for the referee to become certified. Adults signing up will be required to enter information for a background check before being given access to the online material.
Below are Field Sessions currently scheduled in our district:
Saturday, August 13 2022 SUSANVILLE
Sunday, August 14 2022 CORNING
Saturday, August 20 2022 RED BLUFF
Saturday, August 27 2022 MOUNT SHASTA
​You can use
this link
to search for these courses at the US Soccer Learning Center
​HOW TO SIGN UP FOR A REFEREE CLASS
For detailed instructions on how to sign up for a referee course, go to the CNRA webpage.
HOW TO SCHEDULE A REFEREE CLASS FOR MY LEAGUE